Outback Blue Meteor 4 Burner Gas BBQ Barbecue Garden Houses & Buildings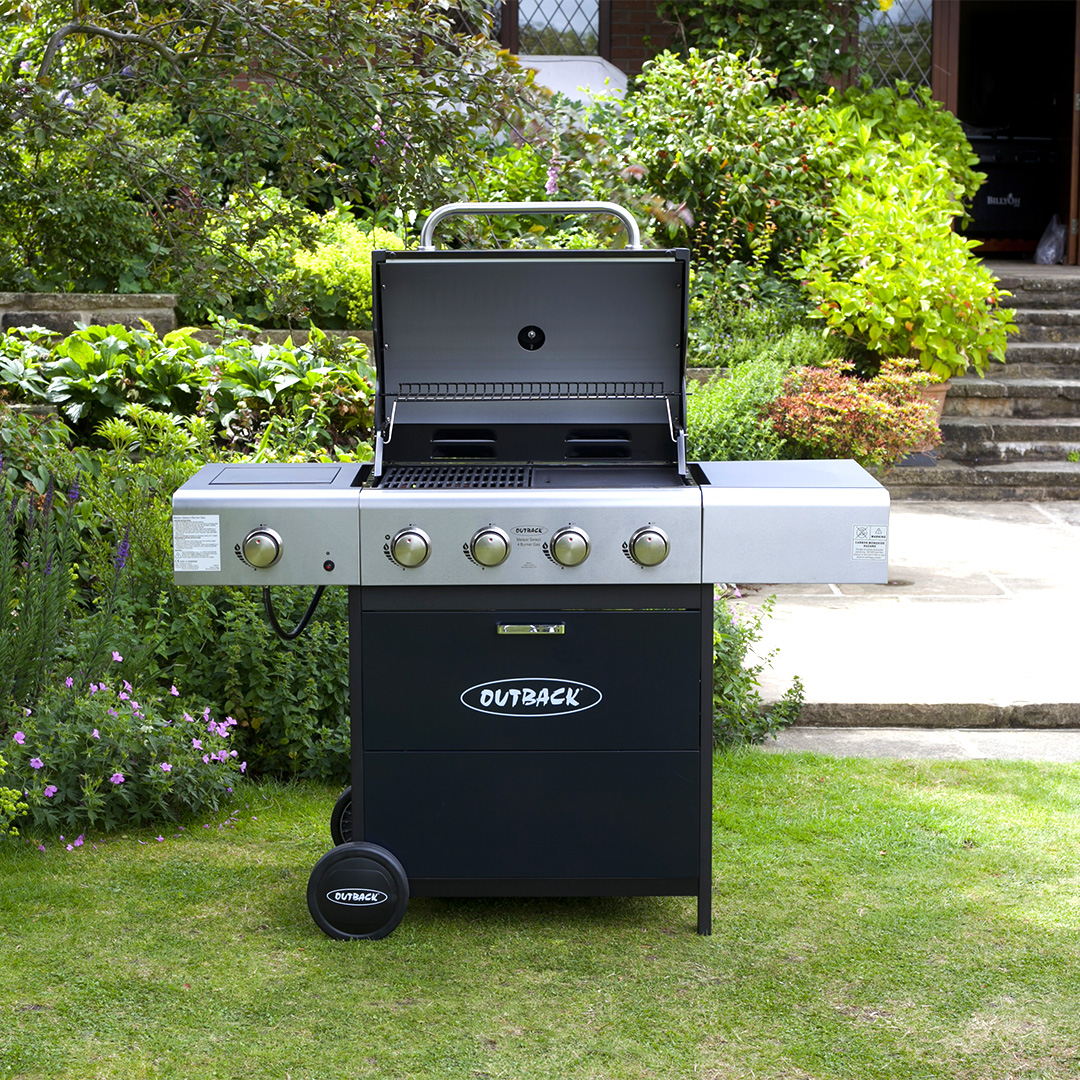 Our Meteor Hooded 4 Burner Gas BBQ Blue Inc Gas Regulator is a great quality and new addition to the Outback range. This four cast iron burner comes with a side burner and draw this will both help you organise your BBQ and ensure you have enough room to cook lots of delicious food. Grill Cooking . The burner heats up the flame tamer underneath the grill, which in turn heats up the food on the grill. The natural food juices produced during cooking fall onto the hot lava rocks below and vaporise. The subsequent rising smoke bastes the food, as it travels upwards, imparting that unique barbecue flavour. Roasting Hood Cooking . Barbecues equipped with a roasting hood give the option of cooking with hood closed to form an oven for roasting food, such as joints of meat , whole chickens, etc. Gas and Regulator . We include a propane patio gas clip on gas regulator as standard with this stainless steel bbq and recommend that you use propane gas or patio gas to achieve the best barbecuing experience. However this barbecue can use either propane patio gas or butane LPG gas.. We recommend propane patio gas as it will supply gas all year round, even on cold winter days. Butane bottles however tend to supply sufficient gas during the summer, but its performance may well be reduced once temperatures drop below 10 degrees C. Please be aware that if you intend to use butane that a butane regulator is not supplied and we do not stock these items. Manufactured by Outback Barbecues.
Supplier: Outback Barbecues
Size: (please check detailed specification):
Delivery: Free in most cases but restrictions apply, free delivery is subject to where you live and confirmed at time of order
CLICK HERE FOR LOWEST PRICE, DISCOUNTS AND OFFERS, SAVE ££££'s
CLICK HERE TO MORE INFORMATION
For the latest shed and garden buildings Promo Codes, Discounts and Vouchers to save money on the latest deals, check out this Discounts page and this Promo Codes page, don't miss out!
You may also like...