BillyOh Rosario – 150cm 6 Seat Rattan Rectangular Dining Set Garden Furniture Suites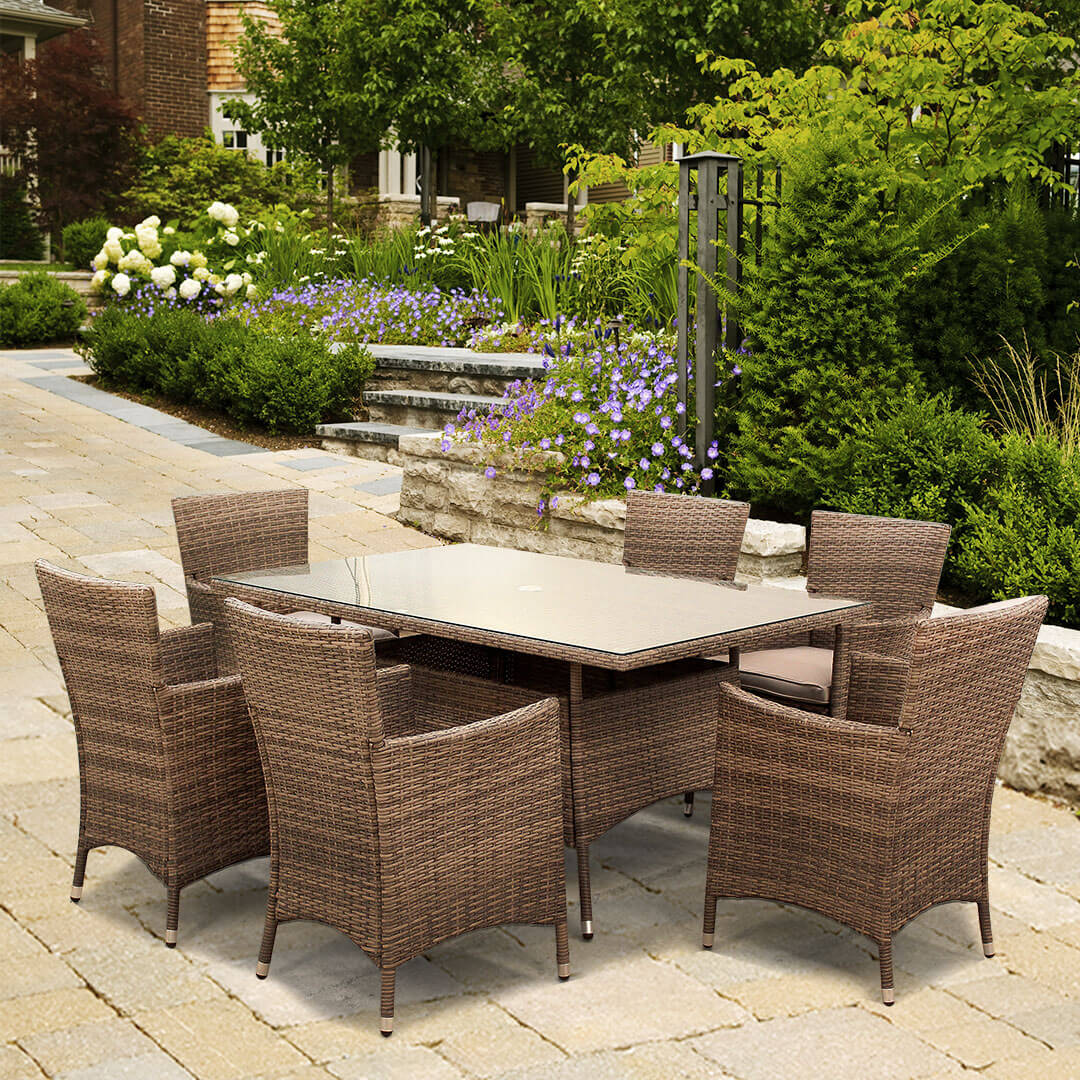 Looking to set up your patio area and accentuate it with a dining set that s equal parts stylish and durable Then what s stopping you from having the BillyOh Rosario 150cm 6 Seat Rectangular Dining Set right in the heart of your backyard This high-quality garden furniture set is made from durable synthetic rattan materials over solid framing and makes hosting small family dinners outside or accepting guests far more inviting and practical than usual. Quality construction that lasts . This lovely outdoor dining set is made from premium synthetic rattan held together using solid aluminium framing. Its 1.2mm flat weave construction, a popular type of rattan finish, makes for an even sturdier build that can withstand pressure from everyday use. If you re part of a family who loves to eat outside whilst enjoying cold summer nights or days where the sun is gloriously peeking through, then this garden set is a must-have. Spacious, rectangular table . The set s rectangular table topped with a 5mm clear tempered glass provides an expansive dining space. This means there s enough room for everyone to enjoy their meals without any hassles. Its sturdy surface supports pressure which means no matter what utensils you place on it, the glass won t easily break. The set can accommodate up to 6 people. The next time you host a simple family dinner outside or invite close friends over, there s always a fancy area to receive them. Dine in style . The furniture ensemble s popular flat weave construction allows for a sturdier build whilst also adding style to the whole feel of the furniture set. This means that no matter what the occasion, worrying about it not blending well is simply non-existent.
Supplier: BillyOh
Size: (please check detailed specification):
Delivery: Free in most cases but restrictions apply, free delivery is subject to where you live and confirmed at time of order
CLICK HERE FOR LOWEST PRICE, DISCOUNTS AND OFFERS, SAVE ££££'s
CLICK HERE TO MORE INFORMATION
For the latest shed and garden buildings Promo Codes, Discounts and Vouchers to save money on the latest deals, check out this Discounts page and this Promo Codes page, don't miss out!
You may also like...